Land is valuable in the Twin Cities area and sometimes the neighborhood or lot you like has an older distressed home currently on it.  That problem can be solved by removing an existing house and establishing a buildable site for a new home to be built.  It's an exciting way to transform a site and many people don't consider this path because of the complications involved.
Some of the challenges that can arise when considering this option are: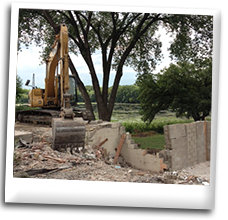 Permits: Municipal, Watershed, SAC, WAC, etc.
Utility disconnects and reconnects
Well or septic abandonment
Asbestos abatement and removal
Financing & Title considerations
Majestic Builders has experience in working through these challenges and can help you turn that run down property into the home of your dreams.
Testimonials
Dear Bill, thank you so very much.  Thanks for all you did! You build a beautiful home for us.
~Terry & Val